Puerto Escondido was our favorite beach town during our six months travel in Mexico. We've spent about a month and a half in this gorgeous place, so if you're wondering about what to do in Puerto Escondido, here are our top five tips!
5 Fun Activities in Puerto Escondido
Honestly, even if you would do nothing for weeks, you would enjoy Puerto Escondido. It's a perfect place to just relax, chill, eat, practice yoga and enjoy the vibe. But these activities will make your trip even better! As always, we were not too keen to participate in many tours. Still, we made one exception. Keep on reading to find out why.
#1 Release Baby Turtles into the Ocean | No tour
Do you want to enjoy time on the beach, accompanied by a bunch of the cutest baby turtles, and do something nice? Go to the Bacocho beach and help the volunteers in the non-profit organization Vivemar to release baby turtles into the ocean! You can take a tour, but it's really easy to do it on your own.
Grab a cab from wherever in Puerto Escondido (it was 60 MX$ from Zicatela) to Bacocho beach. You need to get there before 5 PM. Go straight to the sanctuary and tell them you want to participate in the turtle release. Now you just need to make the donation of 100 MX$ and wait a bit.
In the beginning, a volunteer will explain the job of the organization. Amongst others, they:
Patrol 20 km of the beach
Educate people about the endangered species
Provide the guidance and a base for the turtle releasing
Look for the turtle eggs and provide them a safe place in the sanctuary
Educate school kids about environmental issues, such as global warming, recycling, etc.
It was very interesting to learn more about the species living in this part of the world. Vivemar protects 4 of the 7 sea turtle species that exist in the world. They all are facing the danger of extinction – two of them are critically endangered.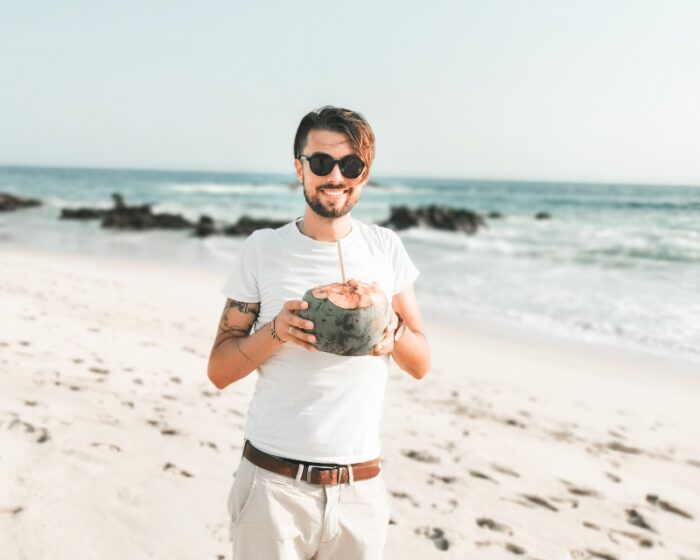 Why is it good to participate in releasing the baby turtles?
The process of releasing is not just a way to make tourists spend money. Of course, volunteers could do the job, but your donation helps to run the organization. But why do you release the turtles so far from the water with those funny bowls?
The turtle, especially the female, needs to do the run herself. That way, she'll remember the spot and in ten years, when she has kids, she'll come back and lay the eggs on the same beach. And the cycle goes on. When it comes to the bowl, it's there to protect the turtles. Obviously, there are many viruses and bacteria you can carry on your hands and they're doing anything they can to protect the turtles.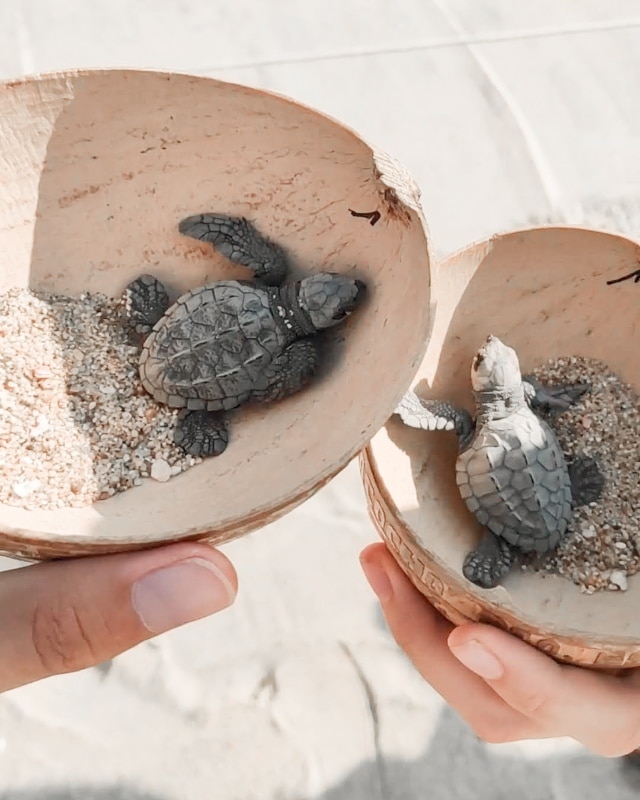 #2 Day trip to Cascada La Reforma
Cascada La Reforma or La Reforma waterfall is 60 meters tall waterfall within reach of Puerto Escondido. You have three options to visit: With a tour, by colectivo or on your own.
Tour to La Reforma waterfall
You can pay a tour company and they will take you to the Reforma waterfall. The downsides are:
It's a tour, so there will be a ton of people
You need to follow their schedule
It is EXPENSIVE
In some cases, the price of the tour and a solo trip is very similar. Sometimes a tour is even cheaper and many people don't understand why we still rather go by ourselves. But this time, the price difference was insane.
We checked the price of the tour to La Reforma waterfall with Selina Puerto Escondido and they asked for 1.300 MX$ per person. That's €60! (I've also seen a tour for 800 MX$, not every company is as expensive as Selina. The hate is real nowadays, if you haven't noticed.)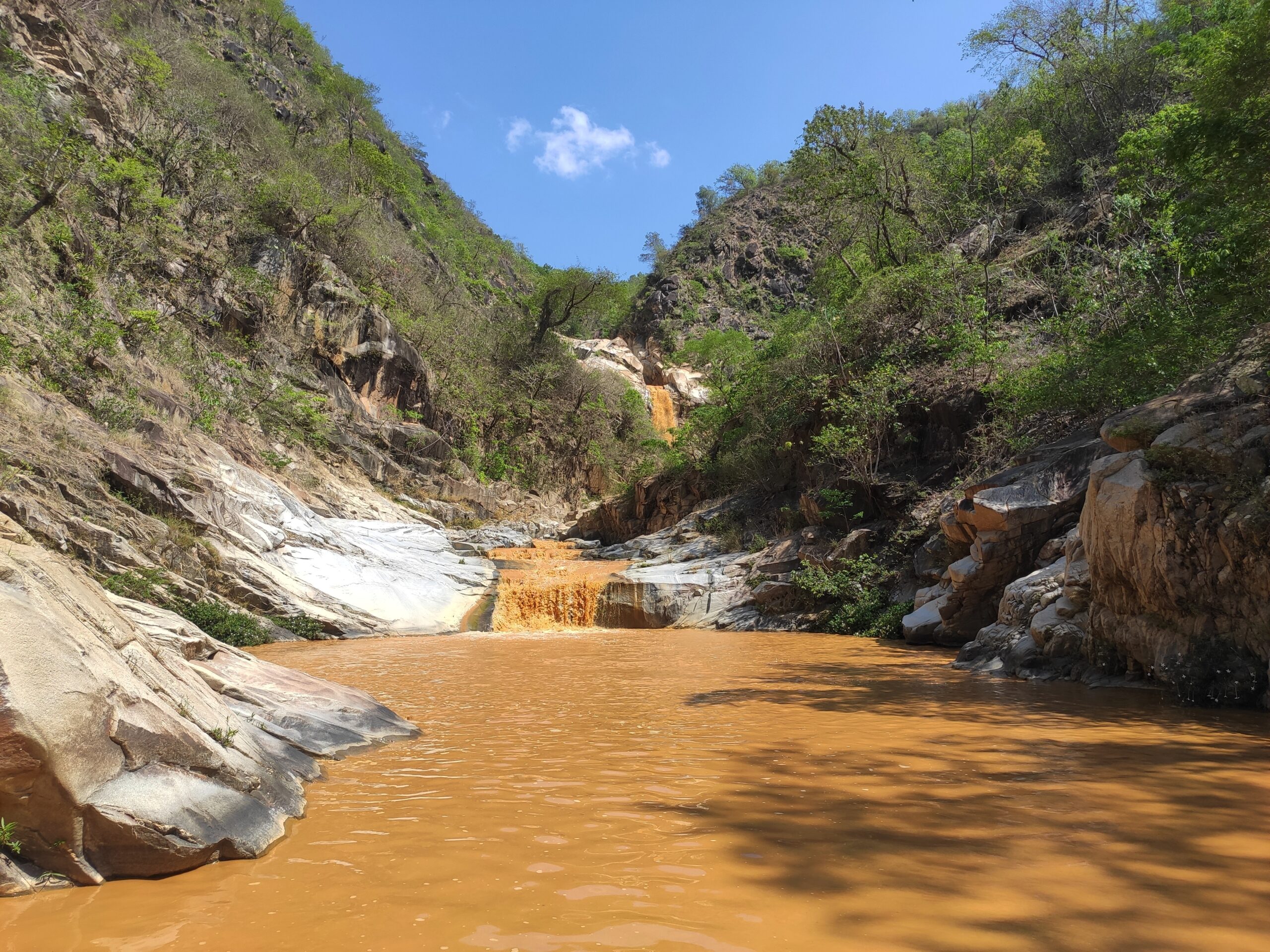 Colectivo from Puerto Escondido to La Reforma
The second option is to go by colectivo. We haven't done it, but theoretically, you first need to go to San Pedro Mixtepec. The colectivo should depart from Terminal Turística Municipal. Once in San Pedro, you need to change colectivo for the one heading towards the small village La Reforma Mixtepec. San Pedro is small, so it should be easy to find. Just check Google Maps, go in the right direction and look for it or ask the locals.
Once in La Reforma, look for a sign "La Cascada" or something similar. Or just ask locals. It's not a very touristy area, so they really like to meet foreigners! You need to hike for ≈1.5 hours (5 km uphill) to get to the waterfall now. Here is the map of the route. The entrance is only 10 MX$ (€0.40).
I'm not sure how much you'll pay for the colectivo, but I would expect about 30–50 MX$ each. That makes it the cheapest option for a solo trip, but if you'll go with a travel buddy, the next option might be more interesting for you!
DIY scooter trip to La Reforma
Renting a scooter and going on your own is the most fun, flexible, and probably the cheapest way to get to La Reforma waterfall. Well, if you or your buddy can drive the scooter, obviously.
We rented our scooter in Selina for 200 MX$. The normal price is 300, but this is what happens when you're nice to people. You also need to refill the tank after the trip – it was about 100 MX$. The last thing to pay was the entrance, which is only 10 MX$. All in all, this beautiful trip was just over 300 MX$ / €14 for two.
It's 40 km, mostly offroad. You need to drive very slowly on the small scooter, so count about 2.5 hours to get there. You first get to San Pedro Mixtepec, then continue east to La Reforma Mixtepec and finally follow the sign to the waterfall – here is the full map.
As you can see in the pictures, the waterfall was very, very muddy. The wet season just started. Therefore, we decided not to jump in – even though we were alone! Now the main benefit of renting the scooter comes: We were able to make stops on the way back!
First, we had lunch in a local restaurant. The restaurant was closed, but that didn't stop the owner from preparing something for us from her fridge. We got a bunch of pasta, local cheese, totopos, and salad and she only asked for 30 MX$. When we gave her something extra as a tip, she was so stunned, that she actually brought a tasty mango as a reward. It is one of the cutest memories I have of Mexico.
The second stop (well, honestly third, because we still wanted to eat more #alwayshungry) was at the beach! It was pretty hot, so we decided we deserve a dip in the ocean and the beautiful Bacocho beach (the one we went to release the turtles) was along the way back to Zicatela.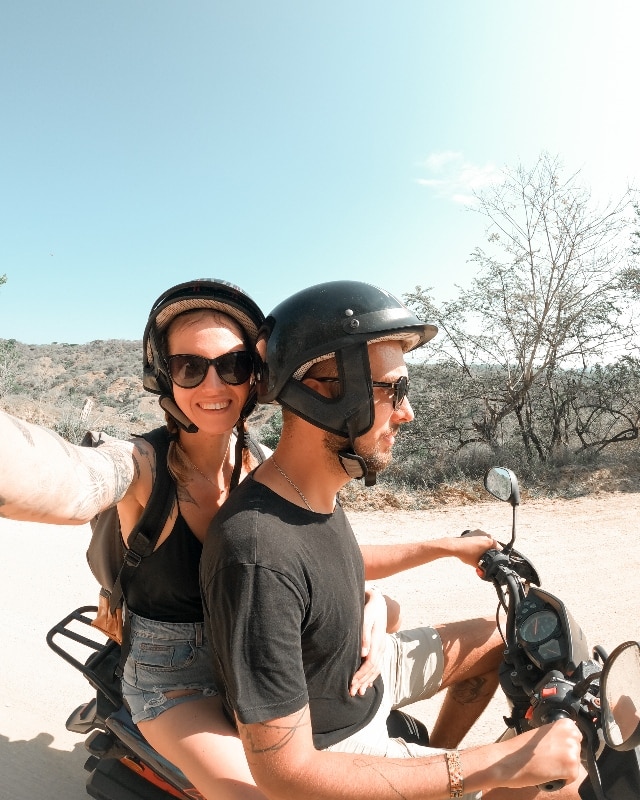 #3 Surf lesson in Puerto Escondido
Puerto Escondido is a surf town. You can come just to enjoy the vibe or you can join the surfers. And if you don't know how to surf yet, you can try to learn! Don't get too excited, you won't go to the famous Zicatela beach. And you'll understand why the second see the huge waves.
But you can pay for a surf lesson and they will take you to one of the easier beaches – probably Carizalillo, maybe La Punta. The class costs about 500–800 MX$. It depends if you need a ride to the beach and if it's a private or group class etc.
You could also just borrow the board and go on your own if you have some experience. But it's good to know that the beginner beaches in Puerto get crowded and you'll need to wait in line for a good wave. And since it's crowded with the locals & instructors, sometimes they won't make it easy for you to catch one. Not all of them are like that, but some really guard their territory and want to make you pay…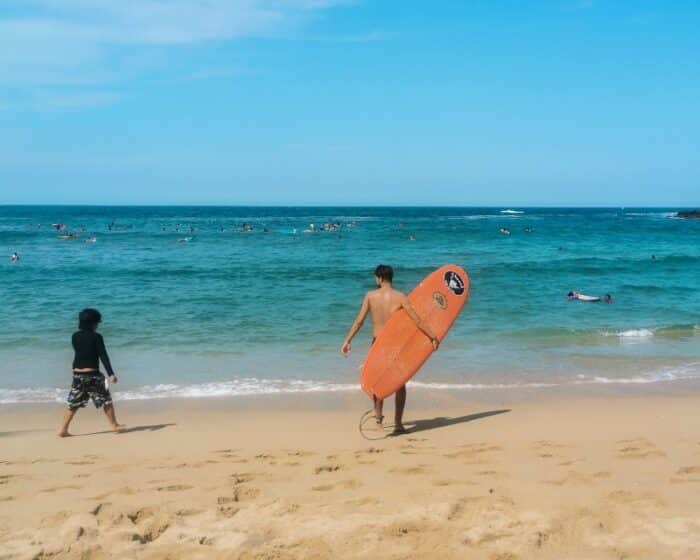 #4 Watch Whales & Dolphins in Puerto Escondido
You can watch hundreds of dolphins in their natural habitat in Puerto Escondido. You'll probably also see some turtles, and if you come during the right season, there are whales as well! The season is between December and March, so no whales for us. But it was still amazing!
In this case, we went with a tour company, since we couldn't really get close to the dolphins without a boat. It might be possible to go down to the port and ask around if the captain will take you directly. If you try it out, let us and other readers know, if it worked out!
Anyhow, when you book the tour: haggle! Haggle hard, because they will probably start with a price like 600 MX$ and can go down to ≈300 MX$. Your position is stronger when you buy the tour for more people. I got it down to 350 MX$. Also, I guess I don't even need to mention this again – don't buy the tour with Selina…
The tour itself is pretty straightforward. They'll pick you up in a van in front of your hostel. It depends where you stay, but prepare for a) waiting a long time, because people overslept in the hostels before or b) waiting in the van, while the driver is honking in front of those hostels, trying to wake the participants up.
Long story short, don't be a jerk and be ready on time.
Later, you get to the port, switch the van for a small boat (try to carry as little as possible) and the captain will get you close to the dolphins. Our captain was even explaining the differences between each school of dolphins and we saw a lot of them! Literally hundreds. We also saw two turtles and swam in the ocean. You need to get back to the town on your own, so either grab a taxi or walk up to the main road and catch a colectivo for 8 MX$.
#5 Sunset at La Punta
Sunsets at La Punta in Puerto Escondido belong to the most beautiful ones I've ever seen. That's also why half of the town comes every evening. You can bring your own beer or buy it on the beach, there is always someone selling space cakes as well and usually some snacks (once we've seen a vegan burger for example).
The vibe is perfect and when you're already in this part of town, you can visit one of the many nice restaurants for dinner. I'll share more about vegetarian food in Puerto Escondido in the following article, so stay tuned!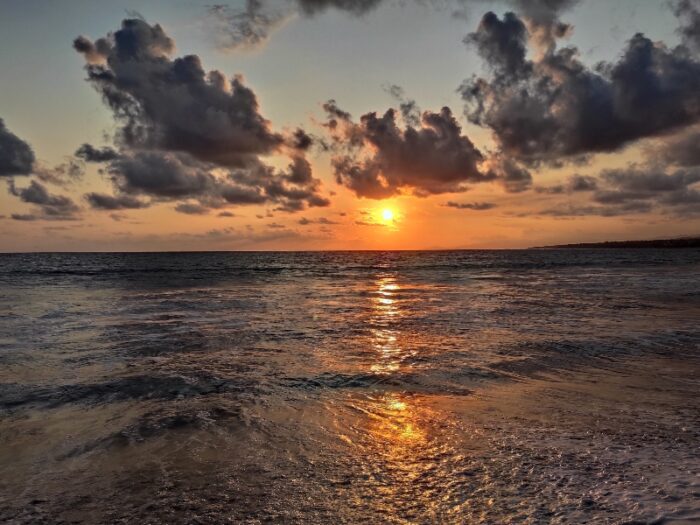 As I mentioned initially, you don't need to do anything and still enjoy Puerto. Well, you should at least go to see the sunset from La Punta! But all these activities made the stay even more special. If you have any questions, feel free to ask in the comments section or on my Instagram account. And if you use any of our tips, we're always happy for sharing and tagging on Instagram!
Enjoy your travels,
Lea